Aluminum Coating System
Description:
Aluminium UV resistant flashing tape has a heavy aluminum facing together with an extra thick butyl rubber adhesive system. The specially formulated rubberized adhesive seals around fasteners, allowing no water to penetrate and get to the substrate. Long-lasting UV resistance and waterproofing protection-Both the aluminum surfaced polyethylene film and pure alu surface with the specially-formulated rubberized components create a water and moisture barrier that does not degrade from the effects of the environment.
Structure:
(1) Adhesive: Butyl rubber adhesive.
(2) Film backing: Aluminium foil
(3) Release paper: Anti-adhesive film treated with Silicone
Features: ·
ü Resistant to ultra violet light
ü No Messy Sealant
ü Aggressive Grip
ü Assure Immediate Superior Adhesive
ü Easy,fast Application
ü No Harmful VOC's
ü Immediate bond to substrate
ü Flexible and accommodating
ü Robust and durable
ü Rapid and easy cold application
ü Non-hazardous and resistant to dilute acids and alkalis
ü Clean and easy to use
ü Aluminum backing is more moldable,conforms better to irregular surface features - for weather-tight seals
Physical Properties
Ø Total Thickness:1.0mm,1.2mm,1.5mm·
Ø Width:50,75,100,150,225,300,1000 mm
Ø Length: 10 M,20M.30M
Ø Adhesive: rubberized ·
Ø Application temperature: 5 -45 ℃
Ø Temperature resistance:-5 ℃ - 70℃
Ø Manufacturers Warranty: 20 Years
Ø Shelf Life: 12 months
Ø Adhesion: Primer is not required but may be necessary in very low temperature applications or in quite dusty site conditions.
Ø Separation:The release layer is removed as work progresses
All purpose weather proof tapes
ü PE pipes,PP pipes,FBE pipes,epoxy pipes.
ü Industrial buildings, Truck Trailers,Skylights,
ü Glass, metal, plastic,Wood Patch, Cement Walls
Application
(1) Ensure the surface is clean, dry and free from grease and other loose matter.
(2) Peel a short length of the release film from one end of the length of tape. Position this end (Adhesive side down) onto the PE pipe surface and press down firmly with hand or roller.
(3) The tape shall be spirally applied ,minimum overlap shall not be less than 50%.When applied to spirally welded pipe , the direction of the tape spiral shall be generally parallel to the weld spiral. The minimum overlap shall not be less than 25mm.
(4) Ensure the tape is evenly pressed down avoiding creases or air pockets. It is very important to press down the edges and ends of the tape. prevent bubbles under the product by using your hand to squeegee out air by wiping your hand towards the roll as you set the tape to the surface.
(5) Continue along the length of tape peeling off approximately 8 to 12 inches of release film as application proceeds. It is recommended that only short lengths of release film are removed at any time to avoid contamination of the compound with dirt and dust.
(6) When a new row of tape is started, the ends shall be overlapped at least 150 mm measured circumferentially.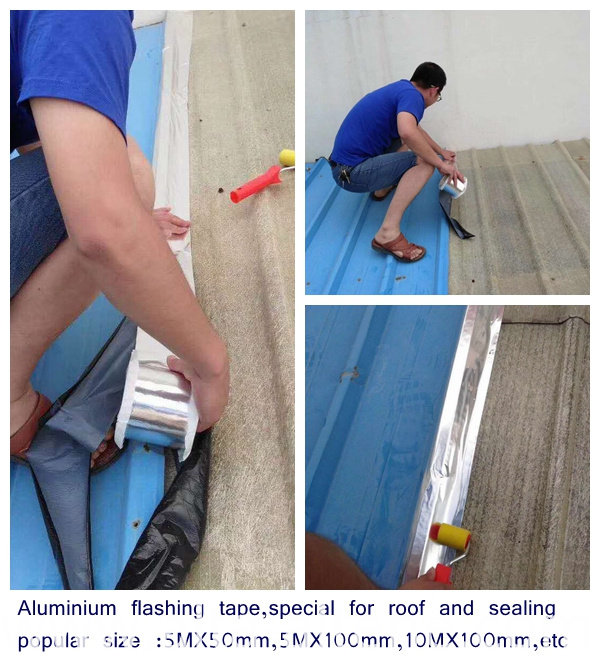 STORAGE GUIDELINES
The flashing tape should be stored in dry, well-ventilated buildings, out of direct sunlight or other major sources of heat. Storage conditions should be adjusted before application to bring the temperature of the rolls to within the relevant specified application range. Stock should be rotated on a first in/first out basis.
Looking for ideal UV resistance tape Manufacturer & supplier ? We have a wide selection at great prices to help you get creative. All the Aluminium tape are quality guaranteed. We are China Origin Factory of
Bitumen Tape
. If you have any question, please feel free to contact us.
Product Categories : waterproof flashing tape